Everybody needs a little 

Structure
Your Storage Solution is Waiting at
Eagle Creek Builders
We offer six different portable shed styles each available
for customization and delivery to your property.
Whether for use as a garden shed, a playhouse, an entertaining space, or storage for your recreational "toys" — ATV, kayak, camping equipment, bikes, and more — Eagle Creek Builders has a shed style and available customizations to meet your needs. Small enough to allow for easy portability yet the perfect size for any yard, our sheds definitely do not lack in usable square footage, design, or durability.
Established in 2009, Eagle Creek Builders has years of high-end construction experience that gets hammered, leveled, and drilled into every portable shed we build. As a local, family-owned, and operated business we do all we can to ensure your complete customer satisfaction.
We can assist with the entire portable shed process from start to finish. We can help you select the perfect portable storage building for your specific needs and available yard space. We will build your new storage shed to meet your exact wants, including all of the 
customizations
 that you selected. We will provide thorough explanations of on-site prep for your yard. And from there, we even offer complete delivery of your new shed — taking care of the loading, transporting, unloading, and final set down; 
learn more about our delivery services
.
Along with our years of construction experience, quality building materials, customization options, and FREE delivery*, Eagle Creek Builders also has competitive pricing, an amazing display location conveniently located in central Minnesota, and allows you the satisfaction of knowing that you have a local product built by a local, reputable company.
There is no better time than now to add "a little structure" to your life — and yard! Your portable storage shed is only a phone call or a visit away. Call us today at 320-533-0199 or stop by our main display location at 32695 Highway 71 just North of Browerville, we will be there Monday through Friday to assist with all your storage needs and wants.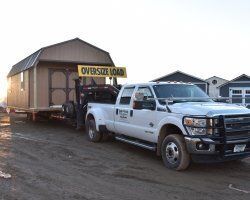 Shed Site 

Prep
While the actual construction, customization, and delivery* of your shed are tackled by our experienced craftsmen at Eagle Creek Builders, the site preparation should be overseen by you or a professional of your choosing. The key factor in getting the most out of your new, portable storage shed is having a perfectly level area to set it on.

A perfectly level site cannot be stressed enough. If the set down site is unlevel, it could cause the shed frame to twist — making doors and windows difficult to open. But not to worry, at Eagle Creek Builders we provide detailed steps on how to create a level foundation for your customized storage shed.
Get In Touch!
 
Eagle Creek Builders
32695 Hwy 71
Browerville, MN 56438

Owner: Jim Fox
Phone: 320-533-0199
Business Hours
Monday – Friday 8 AM – 5 PM
Evening & Saturday: By Appointment Only
Sunday: Closed

Display Lots: Browerville, Randall,
Carlos, and Park Rapids
Available up to 50 miles from Browerville, MN!
Eagle Creek Builders
Mule Delivery and Perfect Alignment of your new Storage Shed